Woohoo.....We've got an award!!
It's The Circle of Pawfriends Award from our paw pal -
Cobi
, the schnauzer!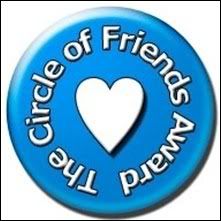 The rules for this award are:
1. Publish it on your blog, referring the friend who passed it on to you.
2. Share 5 things you like to do.
3. Pass it along to keep the circle growing.
The 5 things that I like to do:-
1) Eat.....We loves to eat! Dehydrated treats & durians are our all-time favourites! Whenever we hears *mum-mum*, we dash right ahead & awaits infront of the fridge!
2) Outings.....Loves it when Mommy brings us out for gatherings! We gets really excited on meeting our old friends & getting to know more new friends too! We loves to sniff-butts & play-bites & chaseeeeeeeee!
3) Tug-Of-War......We loves playing tug-of-war with each other! I (Ebi) especially loves to play with Mommy coz it's a big challenge & most of the times she wins. But if i plays with my sister (Emma), i wins all the time!! If Mommy's too busy, i would get the toy from the room & tempt my sister to play tug-tug with me!
4) Sleep.....We loves to laze around & sleep especially when Mommy is with us, laying on the bed & watching TV. I would rest beside her & slowly falls asleep while Emma would sleep near her foot or right beside us, on the floor. hurhur^^
5) Kiss.....I'm a lovable boy! I loves to give my kisses to anyone i meets especially familiar ones. (eg. Auntie Winnie/ Rachel/ Adeline, Uncle Too/ Victor eg eg.) Emma chooses people to give her kisses too, i think she only gives it to Uncle Too - her all time favourite 'daddy-in-law'. LOL~
I would like to pass this award on to the following pawfriends:
Amber, Faith & Chloe
Arson & Audrey (Cassie, Forrest, Panda & Robin)
Baubles & Coffee
Bear Bear & Bruno
Beckham
Ben & Bella
Bibi & Cola
Caesar
CanCan & Hero
Chaco & Cola
Chow Chow
Clover
Cody
Coffee
Dodo & Momo
Dou Dou
Emma & Emmy
EnEn
Faith
Ginger
Gypsy & Chubby
Happy
Happy
Herbiesphere & Helios
Horlick
Huskee & Hershey
Jamie
JD & Max
Lady, Zena, Cody & Joyce
Lex
Mason Dixie
Milky
Mitchell
Miu Miu
Ody & Zaedy
Oreo & Tang Tang
Ozzy, Tessie & Rocky
Pea
Schorschi
Scottie
Shona & Boboi
Slurpie
Sniper & Julius
Sundae
Toby
Toby & Tamy
Ton Ton, Puggy & Wang Wang
Vodka
Xiao Pang
Yang Yang
Zen & Patches
Zoe & Wang