Elloz friends,
Apologize for the lack of updates. We've just moved house & has been kept very busy for this 2 months. Yeap, we've finally settled down at last & had our house-warming party with lots of friends & relatives last Saturday - 08.05.10
However, something unfortunate happened to Emma. She has been rather restless & was not her usual hyperactive/greedy self ever since we moved to this new place. We concluded it was due to stress & unfamiliar environment. Even brought her to the Vet on 02 May but the Vet could not find anything wrong at all. However, she did get better for the next few days until she collapsed infront of our eyes when our friends were here for the house-warming. She was restless, she started to pant heavily & drooled alot, front paws were stiff & she couldn't even walk. The moment we make her stand, she would just collapse. Immediately booked an appointment with Dr. Gianuario & sent her in rightaway, having to leave my guests to entertain themselves while waiting for us to come home.
Reached the Vet at 2pm & after a quick checkup, the Vet said it was more serious this time round & immediately brought her away to another room. I broke down finally but Vet assured me that everything's going to be alright & Emma will be fine. I was asked to go home & wait for the update as she's warded for 1 night in the clinic for observation. I went back home with a sunken heart but brightened up with the thought that she's in very very good hands & im sure she will be fine with the Vet & nurses taking great care of her. By 4pm, the clinic called & Vet informed me that Emma was diagnosed with seizure.. *sigh* Emma was on drip, injections & treatments given, blood tests were also done. She was up & running around in the clinic already but i am only supposed to bring her home the next day. Good thing is - blood tests all cleared! Phew, thank God! Anyway, it was a busy day ahead as we had 2 sessions of house-warming party & i was pretty glad she wasn't at home as the many guests & kids were definitely add on to her stress.
The next day, we arranged with the clinic to pick her up at 12pm while waiting to get a report too from the Vet. She was still on drip when the nurse brought her out. Emma looked well, better than the past few days. She was whining so loud & taping her paws aloud & excitably on the cold metal table the moment she sees us! *awwwwww* Definitely heart-wrenching to see her in this state, but i'm glad she's all well! We brought her back home shortly & Vet advised us to monitor her further. We could have missed those seizure symptoms earlier as this was the 1st time. It could be caused by genetic (low chance as it only happened now) or plant intoxication (we suspect it could be this case as we just shifted & is on a lower floor now & yes - we had leaves flying into the house or she could have eaten something wrong)
In any case, we were just as happy & excited to have Emma back home. ("v")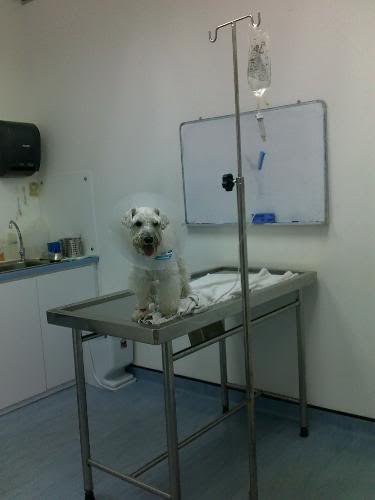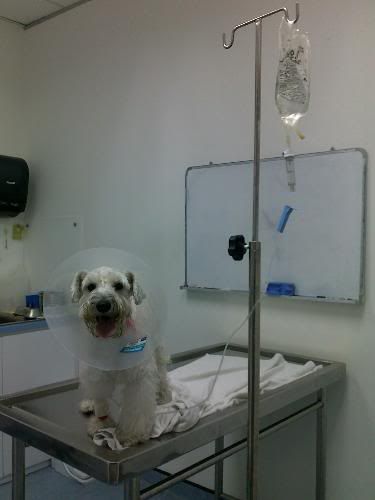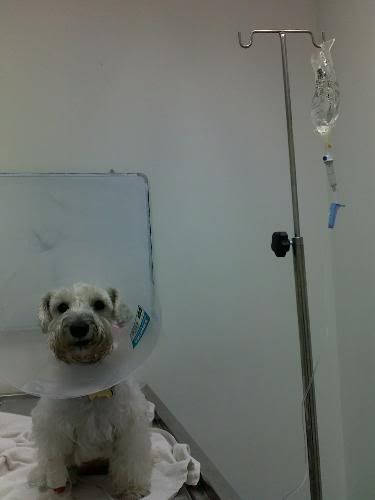 Emma. Heart-wrenching to see her in this state.. on drip! =(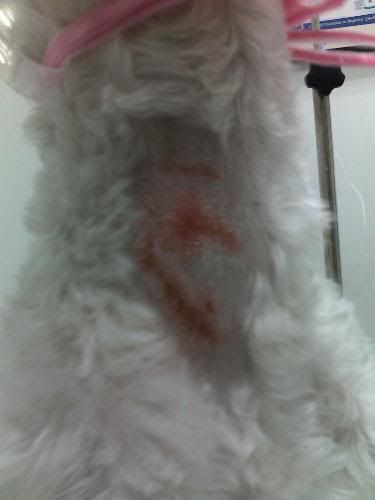 Injections given.. there was a small cut which was caused by Emma's struggling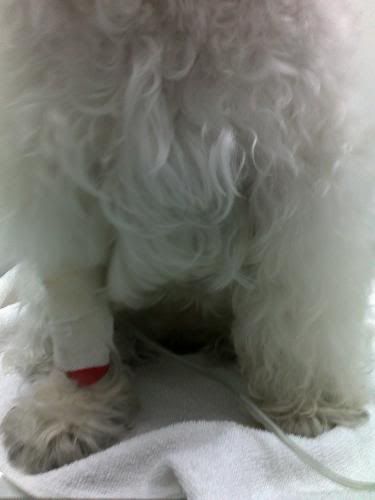 Bandaged. This whole part was shaven bald! =(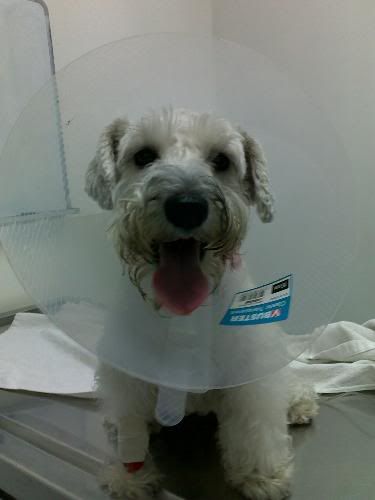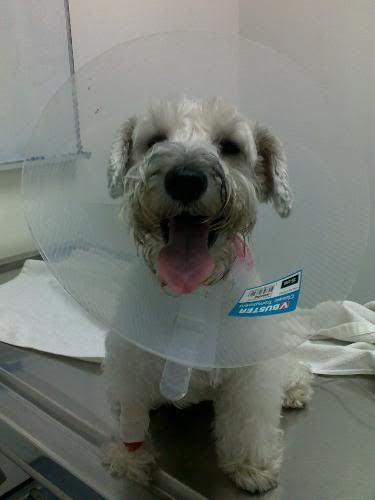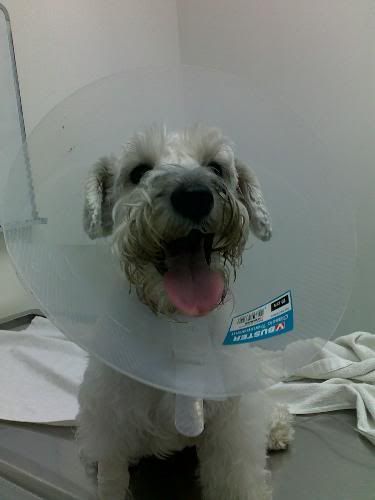 MerMer was all smiley & excited when she sees us..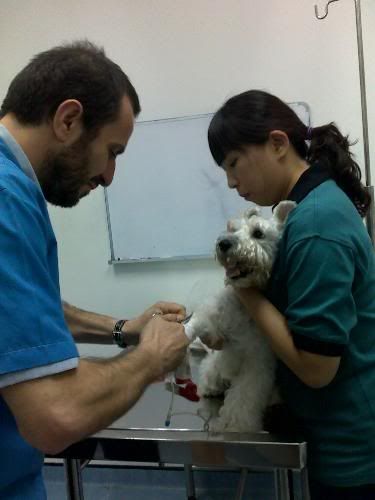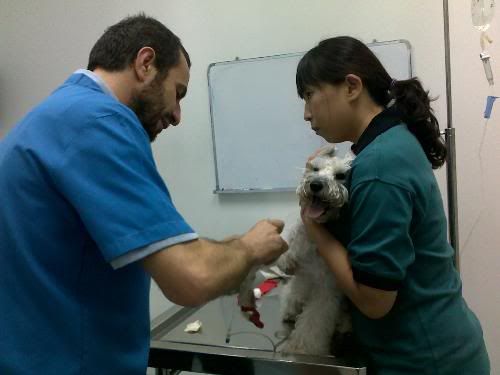 Great Vet & nurse! Emma loves Dr.Gianuario i think. She whined & wagged her tail excitedly when they met again outside the clinic while i was making payment..The nurse too showered her with kisses before handling her back to me.
Dr.Gianuario was really nice. He called me up in the morning for the following 2 days to check on Emma, if she's eating well.. if she's walking/running about.. if she's active.. whether her pee/poo is normal & eg.